Cassia Gum Powder (Cassia Tora Powder)
Cassia Tora L., Caesalpiniaceae, is a wild crop and grows in most parts of India. Cassia gum is a food additive made from the endosperm of Senna obtusifolia also called Cassia obtusifolia or Cassia tora. Cassia gum powder is used as a thickener and gelling agent.
Gum Cassia mainly consists of mannose and galactose units. Cassia gum is a pale yellow powder that is soluble in hot water. Cassia gum powder acts as a thickening agent and forms gels with carageenan and xanthan. It is used as a gelling agent, in place of Locust Bean Gum or Carob gum, in conjunction with Carrageenan for wet canned pet food.
Amba Gums & Feeds Products present superb quality cassia gum powder that is off white go light ton and can be easily dissolved in water acting as a binding and thickness agent. Apart from this, we provide availability of cassia gum powder in unlike quantities in accordance to the requirements of customers.
Cassia Cinnamon – Cinnamomum cassia – powder. From Southern China and Indonesia comes one of the oldest spices known to man. The bark of the tree is harvested and pounded and the result is Cinnamon. It has a warm spicy aroma and a sweet flavor.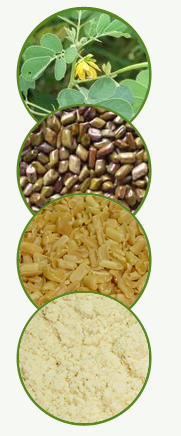 Specifications
Cassia Gum Powder used for stabilising, binding & thickness agent.
Colour – off white go light ton
Odor -practicalls oderless.
Physical & chemical
Moisture: 08-15%
protein (N x 6.25): 05-10%
Fiber: 05-15%
Gum (By diff.):60-80%
Ash: 01-1.5%
Acid Insoluble: 07-13%
Fat: 0.5-01%
P.H.: 6-8%
Viscosity
Cold viscosity 1% sol. Brokfielf 4/20@ 25oC. Temp. 20-100cps.
Particle Distribution
Packaging
25kgs net HDPE polywoven paper fabric.
Bass, inside PP liner.
Cassia Gum Powder Video