Guar Gum Splits – Refined Guar Gum Splits Manufacturer
Guar gum is one of the most efficient water thickening agent and widely known for having characteristics of white to also creamy coloured & free flowing powder. Guar Gum is a very adaptable and efficient bio-polymer covering a wide range of industrial applications.
Guar Seed produce Guar Gum Splits is manufactured from. Guar Gum Split is then refined further endosperm and non ionic polysaccharide galacomanan. Split (Endosperm) is later separated mechanically from guar seed & refined. Further more in other words, the refined guar splits are obtained from fibrous material, which forms the husk. The refined guar split is produced when the fine layer of fibrous material is removed and separated from the endosperm halves of husk by polishing. Guar Gum Splits is basic raw material for manufacturing guar gum powder.
Amba Gums & Feeds Products offer superior quality Guar Gum splits that is the refined endosperm derived from the Guar seed or Cluster bean. The guar gum splits are hygienically packed and thus deliver unmatched quality standards.
Guar gum undamaged by bleaching or thermal degradation and are available in several granulation and viscosity ranges. In dry storage, Guar gum may be stored virtually indefinitely without spoilage or degradation of properties. Guar gum is a complex natural polymer of mannose and galactose sugars.
Guar Gum Refined Split is refined form of guar gum plant endosperm derived from guar seed or cluster bean. Guar beans are harvested and dried following the growing season. The beans are shelled from the pods, the germ and hull removed. The resulting splits are wet-milled into powder; the powder is graded by granulation and quality. Products are re-blended according to specification, bagged and marked.
Amba Guar Gum Refined Split -Endosperm is separated mechanically from guar seed which yields almost 30% of Refined Split. It's mostly non-ionic polysaccharide galacomannan.
Amba Guar Gum Split is very with adaptable in its built-in properties is used all over the globe. Guar Gum Split different utilities in many industries like Petroleum (Oil drilling), textile, printing, food pharma, cosmetic, toiletries paper, tanneries, mining, explosives, pet food etc. These industries use Amba Guar Gum in powder form either directly plain Guar Gum Powder or in Guar Gum Split. Amba provides quality Guar Gum Splits to quality manufacturer/vendors of Guar Gum Powder, which is their pre-requirement for manufacturing high quality Guar Gum Powder.
Packaging
Our main focus is to deliver products in wholesale with safe and secure delivery based on custom requirement in specific sizing. We opt the safest way of storage and transit. Guar and cassia products are delivered in HDPE circular woven bags/multi walled paper bags in weighing of 800, 900 and 1000kg packaging.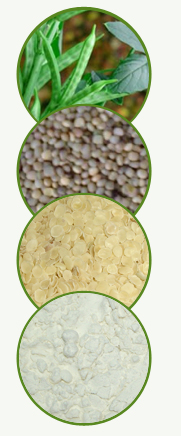 Specifications
Color
:
Pale-white
Gum Content
:
80-85%
Splits
:
90% min
Mineral Matter (ASH)
:
1.5% max
Fiber
:
1.5 – 2.0 % max
Protein
:
5% Maximum
Moisture
:
10% Maximum
Ether Soluble Substances
:
0.6% Maximum
Acid insoluble ash (sand and/or silica)
:
Traces
Black Split
:
1% max
Heavy Metals
:
Nil
Appearance
:
Bright creamy yellow
Package
:

Usually in 25 / 50 Kg. Net HDPE bags with PE Liner inside
Other Packages as per buyer's needs can be arranged

Storage Conditions
:

Should be stored in cool & dry place, away from direct sunlight and moisture.
Guar Gum Splits Video