Guar Gum Powder
Guar gum powder is odourless, having dissolving capacity in cold and hot water and making high viscosity paste. Guar gum powder viscosity is based on various factors like concentration, temperature and time. It is generally white to yellow white in nature.
Amba guar gum is almost insoluble with all organic solvents & soluble in hot &cold water.
A broad range of PH & non-ionic is maintained with stability in high viscosity.
With the increase of water the stickiness of Ethylene Oxide free guar gum solution also increases
There is a great influencing factor of salt, temperature & pH levels upon viscosity of guar gum form.
When Guar gum is hydrated in cold water it has high sticky colloidal dispersions.
There are usually various factors to ensure absolute hydration in water like which grade of powder is used, temperature & equipments to achieve maximum gumminess.
Amba ETO free Guar gum is very compatible with wide variety of organic & inorganic substance with also few dyes & various constituents of food.
Guar gum is an excellent thickening, stabilizing, film forming & emulsifying properties
It is observed that in low concentration, guar gum carries excellent settling properties & it also acts as filter aid.
ETO free Guar gum powder carries sturdy hydrogen bonding properties.
Guar Gum is reasonably cost effective as compared to any other thickening agent or effective binder, plasticizer.
Guar gum is also popularly known as gomme guar, goma guar, galactomannan, guarkernmehl, and guaran.
Properties of Guar Gum
Guar gum acts as a gelling agent in water.
Surprisingly guar gum plant is draught resistant.
Basically Guar gum has rationally more thickening property then corn starch.
Guar gum prevents growth of ice crystal
Superior Quality Guar Gum Powder
Quality is utmost important for us at amba gum, we have a strict adherence towards our quality policy. Our quality assurance department ensures run through, in depth & detailed tests on raw materials, semi- finished& finished goods. Our facilities is well-equipped, maintained, modernise & with all latest technology with high quality standards.
The Factors which majorly effect the physical & chemical levels in guar gum to name few are like odour, fat contents, color, moisture level, protein, PH level, granulation, gum content ratio, ability to filter, dissolvable, ash content, viscosity and more.
Amba gum has a special microbiological department that analysis and tests. They perform various types of processes to control bacterial influence & control the test of food grade as per demands and few of the factors which make large difference are like counts reading of mold, yeast, standard plate, coli & E-coli, Pseudomonas, Staphylococcus & Salmonella.
Guar Gum Powder packaging
With Ethylene Oxide free guar gum powder, packaging a little crucial. At Amba Gum a special attention is given to this important process. Bulk guar gum products @ Amba Gums are packed with special care. With standard measures and appropriate bag-sizes, the packing is done while carefully filling the products. At Amba gum's manufacturing unit this efficient packing is performed with safety and qualiy during any sort of transit & storage. Various Sizes available are 800, 900 – 1000 kg circular woven HDPE bags. Guar gum powder is offered in various types of sizes and with flexible packaging at Amba gum. These packaging bags are multi walled paper bags.
Application of Guar Gum Powder in Different Industries
Guar gum powder is used in ice creams, soft serves that controls the growth of crystals, moisture & freezing point.
In breads, cakes & pastries and other bakery products it is used as moisture retaining and binding agent that makes it soft and spongy.
To improve the mouth feel and maintain the viscosity, guar gum powder is used as suspending agent in beverages.
It is also widely been used in pharmaceutical industry as a binding & disintegrating agent in manufacturing of tablets.
Due to the binding property of guar gum powder it is used in paper industry in manufacturing of paper, crafts that helps to increase the tensile, strength etc.
In textile industry it is also used in silk, rayon, cotton in order to increase the strength of the wrap and reduce the dusting of the sizing machine.
There are also many more industries where guar gum powder is widely been used like water based paints, ceramics, wallpapers etc.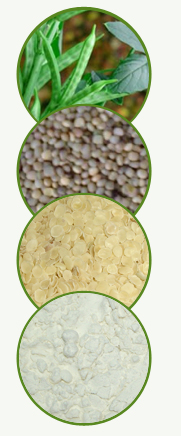 Guar Gum Powder Number
| | | | |
| --- | --- | --- | --- |
| | HS-Code of Guar Gum Powder | : | 130.232.30 |
| | 21 Code of Federal Regulation | : | 184.1339 |
| | CAS No. of Guar Gum Powder | : | 9000-30-0 |
| | EEC No. of Guar Gum Powder | | E412 |
| | BT No. of Guar Gum Powder | : | 1302.3290 |
| | EINECS No. of Guar Gum Powder | : | 232.536.8 |
| | Imco-Code | : | Harmless |
Specifications
BRAND & GRADE NAME
AG /46
AG 1/30
AG 2/35
AG 2/50
E. NUMBER
E-412
E-412
E-412
E-412
Mesh
40.60
100
200
200
APPEARANCE
off-white Powder
off-white Powder
off-white Powder
off-white Powder
MOISTURE
12% Max.
12% Max.
12% Max.
12% Max.
PROTEIN
(N X 6.25)
5% Max.
5% Max.
5% Max.
5% Max.
ASH
1.0% Max.
1.0% Max.
1.0% Max.
1.0% Max.
ACID INSOLUBLE ESIDUE (A.I.R.)
3% Max.
3% Max.
3% Max.
3% Max.
GUM CONTENT
(by difference)
80% Min.
80% Min.
80% Min.
80% Min.
pH
(1% Solution)
5.5–6.5
5.5–6.5
5.5–6.5
5.5–6.5
VISCOSITY 24 Hours (1% Sol. Brookfield RVT Viscometer 25°C, Spindle No. 4, 20 rpm)
2000 CPS Min.
3000 CPS Min.
3500 CPS Min.
5000 CPS Min,
Total Plate Count (/gram)
< 5000
< 5000
< 5000
< 5000
Yeast and moulds (/gram)
< 500
< 500
< 500
< 500
Coliforms
Negative
Negative
Negative
Negative
Salmonella
Negative
Negative
Negative
Negative
| BRAND & GRADE NAME | AG 3/35 | AG 3/50 | AG 2/60 | AG 2/70 |
| --- | --- | --- | --- | --- |
| E. NUMBER | E-412 | E-412 | E-412 | E-412 |
| Mesh | 300 | 300 | 200 | 200 |
| APPEARANCE | off-white Powder | off-white Powder | off-white Powder | off-white Powder |
| MOISTURE | 12% Max. | 12% Max. | 10% Max. | 10% Max. |
| PROTEIN(N X 6.25) | 5% Max. | 5% Max. | 5% Max. | 5% Max. |
| ASH | 1.0% Max. | 1.0% Max. | 1.0% Max. | 1.0% Max. |
| ACID INSOLUBLE RESIDUE(A.I.R.) | 3% Max. | 3% Max. | 3% Max. | 3% Max. |
| GUM CONTENT(by difference) | 80% Min. | 80% Min. | 80% Min. | 80%Min. |
| pH(1% Solution) | 5.5–6.5 | 5.5-6.5 | 5.5-6.5 | 5.5–6.5 |
| VISCOSITY 24 Hours (1% Sol. Brookfield RVT Viscometer 25°C, Spindle No. 4, 20 rpm) | 3500 CPS Min. | 5000 CPS Min. | 6000 CPS Min. | 7000 CPS Min. |
| Total Plate Count (/gram) | < 5000 | < 5000 | < 5000 | < 5000 |
| Yeast and moulds (/gram) | < 500 | < 500 | < 500 | < 500 |
| Coliforms | Negative | Negative | Negative | Negative |
| Salmonella | Negative | Negative | Negative | Negative |
Guar Gum Powder Video