Cassia Gum Powder (Cassia Tora Powder)
Cassia Tora L., Caesalpiniaceae, is a wild crop and grows in most parts of India. Cassia gum is a food additive which is made from endosperm of Senna obtusifolia also very popularly known as Cassia tora /Cassia obtusifolia.
Gum Cassia mainly consists of mannose and galactose units. Cassia gum is a pale yellow powder that is soluble in hot water. Cassia gum powder serves as thickening agent & forms gels with carageenan & xanthan. Amba cassia gum powder is used instead of Carob gum orLocust Bean Gum, with Carrageenan for canned pet food in wet form.
Amba Gums & Feeds Products present superb quality cassia gum powder that is off-white to light tan and can be easily dissolved in water acting as a binding agent. Apart from this, we provide availability of cassia gum powder in unlike quantities in accordance to the requirements of customers.
Cassia Cinnamon – Cinnamomum cassia – powder. From Southern China and Indonesia comes one of the oldest spices known to man. The bark of the tree is harvested and pounded and the result is Cinnamon. It has a warm spicy aroma and a sweet flavor.
Various Uses of Cassia gum powder is popularly known as cassia powder, cassia tora powder, cassia tora splits powder, cassia gum split powder. Mostly cassia gum is utilized as natural gelling agent. Amba cassia gum powder application is explored in many variety like gelling agent, pet food, cattle feeding food and industrial purposes. Cassia Tora is a uncultivated leguminosae weed that in nature grows in diverse parts India. Cassia on its own is a stimulative, carminative and tonic plant used for many purposes including domestic to industrial uses. Cassia splits powder is used with carrageenan and instead of Locust Bean Gum or Carob Gum or Guar Gum Split too.
Cassia gum is also popularly used as foam stabilizers, thickening agent, emulsifiers & texturizing in cheese, moisture preservation agent, frozen dairy desserts, mixes & add-ons for poultry products.
Cassia powder is used in major meat containing dishes including frozen multi course meat meals, salads, sandwich ingredients & appetizers prepared by commercial processing methods and occasionally with home preparation. Surprisingly, cassia gum powder are mostly used air fresheners nowadays too in gel form.
Manufacturing Process of Cassia Gum Powder
Cassia gum powder is been produced from cassia tora seeds. Initially, the milling & screening process takes place to dehusk and de germ the seeds
Final cleaning is been done in order to remove impurities like stones, farm waste etc. following with the splitting process
With the help of thermal and mechanical process the splits are been removed separately.
Lastly, the splits are grounded into fine powder i.e. cassia gum powder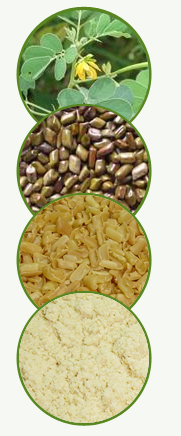 Specifications
Cassia Gum Powder used for stabilising, binding & thickness agent.
Colour – Off-White to Light Tan
Odour – Practically Odorless.
Physical & chemical
Moisture: 08-15%
protein (N x 6.25): 05-10%
Fiber: 05-15%
Gum (By diff.):60-80%
Ash: 01-1.5%
Acid Insoluble: 07-13%
Fat: 0.5-01%
P.H.: 6-8%
Viscosity
Cold viscosity 1% sol. Brokfielf 4/20@ 25oC. Temp. 20-100cps.
Particle Distribution
Packaging
25kgs net HDPE polywoven paper fabric.
Bass, inside PP liner.
Cassia Gum Powder Video