Guar Meal (Cattle Feed) Manufacturer
Guar Meal is a Most popular cattle feed in India. Guar meal is a highest protein animal food; it has upto 55% of protein. Guar gum is used for various industrial uses as a viscosifier, thickener, binder, gelling agent, stabilizer, emulsifier, water holding agent.
Guar Split process is very unique, husk & germ are obtained during guar split manufacturing process. Guar meal churi is rich in protein & very popularly used in India as valuable cattle feed.
Guar Meal is obtained after processing Guar seeds. Amba Guar gum is extracted from the guar seed Cyamopsis Tetragonoloba of leguminous plant. The extracted guar meal is processed by high temperature to remove Trypsin Inhibitor. Amba guar churi truly improves its nutritive value and used for feeding cattles.
Guar Meal typically comes in different forms like Guar Churi, Guar Korma. Guar Meal is usually like in granular form.
Amba Guar Meal is very rich in proteins & carbs&100% natural agro product without any chemicals or preservative. Ususally processed guar meal can be used either with other feed or just alone by itself. Amba Guar Meal is a complete nutritional cattle feed.
Guar Gum Meal is our best selling product and extremely popular since years. After the split process it is refined and processed, roasted and sterilized with exceptional modern technology at our unit. Guar gum meal has a very high protein value 38- 56%. Amba Guar Gum Meal has best contents of Albuminoid& Oil. It also contains high fiber ingredients up to 5%. This in return have enhanced its lusciousness & ability to digest well for cattle's & other valuable animals.
Guar Gum Meal has been packed & refined without roasting. It is mainly very popular within Cattle & Poultry industry.
At Amba guar gum unit allguar gum products are processed, sterilze and packed with utmost hygiene to maintain the global standards . Refining & Roasting are the important factors while we process this product. It is one of the best cost effective also excellent replacement of pricey Fish Meal or Soya Meal.
Advantages of processed Amba Guar Gum Meal (cattle feed)
It's free of Alfatoxin &E. coli& Salmonella, which is very common to infect guar gum meal.
It's very easy to store in silos& doesn't create any hassels too in discharge.
It is absolutely non-flammable.
It contains avg of min 45% Albuminoid with oil
It is widely used as the binding agent for various feed compound due to left-over guar gum.
100% Non-GMO product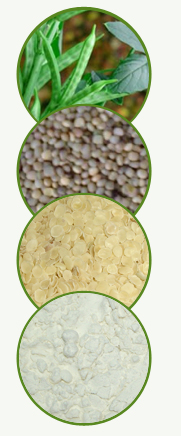 Guar Meal Specifications
| | | |
| --- | --- | --- |
| PRODUCT | GUAR KURMU | GUAR CHUNI |
| PROTEIN ( O + A ) | 50.00% Min. | 35.00% Min. |
| SILICA | 02.00% Max. | 02.00% Max. |
| FIBRE | 10.00% Max. | 10.00% Max. |
| MOISTURE | 10.00% Max. | 10.00% Max. |
Guar Meal Video