Guar Gum is a one of the most promising soluble type of dietary fiber; it is derived from the endosperm of seeds of legume plant, Cyamopsis tetragonalobus. This plant is mainly cultivated in India and Pakistan. The isolated guar gum needs to be de-polymerized to use as dietary fiber.
The process of purification and subsequent radiation is undertaken on guar gum to procure partially hydrolyzed guar gum which is used as dietary fiber.
The partially hydrolyzed guar gum is considered as GRAS, which stands for Generally Regarded As Safe products. It is natural product and grown in the field without any chemical treatments. The process to procure it is less time consuming and without adding any preservatives. Thus, it is considered as safe dietary fiber.
It is used in biscuits, bread, yogurt, cereals, ice cream and many other fiber supplements due to its distinct features.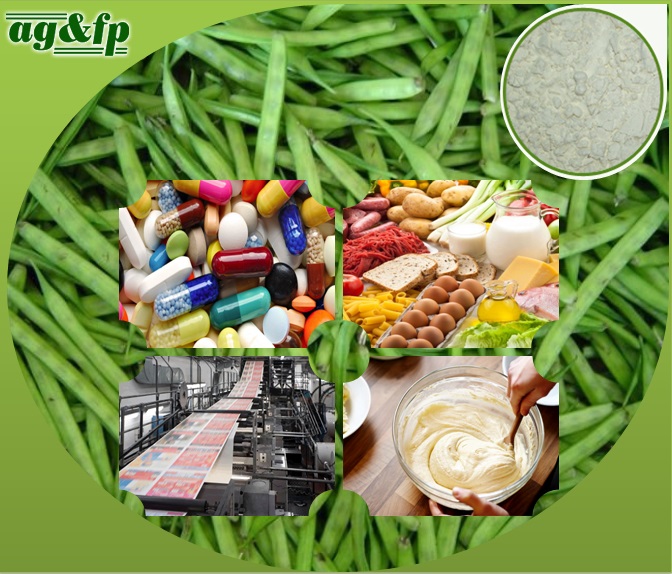 What makes it suitable for Food Division?
It is less viscous in nature, which makes it dissolve in water readily.
It is gluten-free product. Thus, its intake does not increase the weight.
It helps to maintain the original flavor and aroma of the product as it is colorless, odorless and tasteless. It does not change the taste of food products.
It has probiotic properties, which stimulates the immune system and regulates digestive function.
It also helps to preserve moisture in the food item for longer time.
Utilization of Partially Hydrolyzed Guar Gum in Food Division
Baked foods and baking mixes: It is used as emulsifier. It reduces the fats from baked foods.
Breakfast cereals: It is used as stabilizer. It increases the fiber in the diet. It extends the 'bowl life' of cereal.
Medical Food: It is used in medical food due to its probiotic properties. It stimulates the metabolism. Its medical food must be taken under the guidance of physician.
Dairy products:  It is used as firming agent. It improves the texture of the dairy products such as cheese, butter, yogurt, etc. It prevents the ice crystal formation in ice-creams.
Fats and oils: It decreases the creaming percentage.
Gravies and sauces: It is used as thickener. It adds bulk in such food applications.
Jams and jellies: It improves the texture and makes the jam & jellies eye-catchy.
Processed vegetables and vegetable juices: It is used in processed veggies and its juices as it can preserve the moisture and adds more life to it.
Sweet sauces, toppings and syrups:  It provides foam stability. It makes the food enticing.
All other food categories: It is used in versatile food products as emulsifier, thickener and formulation aid.
Conclusion
With the awareness of benefits of partially hydrolyzed guar gum, not only the producers of food products but the laymen started its consumption also.
Besides providing a great texture to food products, it is a healthy daily regime as it is beneficial for certain health problems such as Irritable Bowel Syndrome (IBS) and digestion related ailments. It improves gut flora which is stimulates the growth of good bacteria in the body and keeps one fit & healthy.
Now, it is important to take the quality of partially hydrolyzed guar gum into consideration to get its benefits.
Why Amba Gums & Feeds Products is best in industry?
Amba Gums & Feeds Products is considered as the connoisseur of guar gum and cassia gum suppliers. It is an ISO 22000:2005 certified company; located in Ahmedabad, Gujarat. It manufactures and exports the superior quality products since 33 years. It has maintained the quality of their products and services since its inception.
The company has marked its presence in the world with its product which is traded on domestic as well as international level. It supplies wide range of products viz. supplies Guar gum powder, Guar gum splits, Guar Meal, Cassia Gum Powder and Fast Hydration Guar Gum.
They take utmost care of their products from its processing to packaging stage. Their products are checked and approved by Quality Assurance department prior selling it to the customers. They have built strong business relationships by providing high grade products and incomparable services at competitive prices.